Primary Instrument: Vocalist
The Manhattan Transfer was not an overnight success, but a result of many years of dues-paying and persistence, particularly by bass singer and founder Tim Hauser. Tim's musical history goes back to a doo-wop group called the Criterions, who recorded a couple of singles on Cecilia Records when Tim was 15. In January 1969, Tim Hauser and Erin Dickins co-founded Manhattan Transfer, with Tim's longtime friend Pat Rosalia and Marty Nelson. The group was soon signed by Dick Asher at Capitol Records, and recorded their first album, Jukin' in Nashville with a guest artist, singer/songwriter Gene Pistilli. The album featured several Pistilli compositions, songs from the Gene Goldkette Orchestra and Fats Waller, and The Ink Spot's "Java Jive," a perennial Manhattan Transfer favorite. These recordings represent the group's first foray into jazz vocalizations. The original Manhattan Transfer disbanded in 1973 citing artistic differences.
<!— Subsequently, Tim formed the first Manhattan Transfer, five members strong and featuring Gene Pistilli, who had co-written some songs recorded by Spanky and Our Gang. The resulting album wasn't stylistically well-integrated, and didn't catch on commercially either. That first version of the group broke up in 1971. —>
The Manhattan Transfer re-emerged as a four-piece, with Janis Siegel (alto), Laurel Masse (soprano), and Alan Paul (tenor), who found each other in a series of happy accidents. Tim Hauser was driving a cab at the time, and picked up passenger Laurel Masse; they got to talking. Tim met Janis Siegel through a drummer acquaintance. Janis had been performing at the Greenwich Village coffeehouse scene with a group called "Laurel Canyon." Alan Paul had been appearing in the musical "Grease!" (Laurel's boyfriend was a musician in the production, and referred him).
With personnel in place, they began to build a following at all of the hip New York clubs: Max's Kansas City, Reno Sweeney's, Cafe Carlyle, etc. Atlantic's Ahmet Ertegun heard of them and came to a gig. His enthusiastic response resulted in a record deal and an association that lasted for many years. The Manhattan Transfer's first recording, the self-titled "Manhattan Transfer" featured "Operator," a fifties gospel tune, which reached number #22 on the Billboard chart and was their first hit. They were hard to catagorize - "Cabaret Rock" or "Disco Sha Na Na" were some of the labels attached to them - but their popularity grew solidly, accompanied by intensive touring. They even had their own short-lived TV series (as well as frequent guest appearances on other variety programs). "Coming Out, " "Pastiche" and the first live album followed. "Pastiche" was noteworthy as it was the first time the group collaborated with Jon Hendricks (of Lambert, Hendricks and Ross), and was the beginning of a long and remarkably fecund relationship. However, the record did not sell well, and as fate would have it, Laurel was in a car accident in 1978, which curtailed her activities (her jaw was wired shut for three months). She ultimately quit the group. The Manhattan Transfer re-located to California and began the search for a new soprano vocalist.
Cheryl Bentyne joined in 1979. Her father had been a jazz bandleader and she had sung with him, developing a technical facility that she would need with the Transfer. Her audition pieces were "You Can Depend On Me" and "Candy." With Cheryl in the group, the group went forward with their next record: "Extensions." It was a hit and the group were swept up in the disco craze with the single "Twilight Zone/Twilight Tone." In addition, "Extensions" included "Birdland," the Weather Report composition that became a Manhattan Transfer signature tune. The group won two Grammy's for that album, the first of many.
"Mecca For Moderns" followed, which included Gene Puerling's "A Nightingale Sang In Berkeley Square" and "Boy From New York City." Having discovered them, the public and the critics continued to bestow honors upon the Manhattan Transfer, as they received the Best Pop Performance by a Duo or Group Grammy, and "Boy" reached number seven on Billboard.
Atlantic released their first greatest hits album, while the group went to work on "Bodies and Souls." The record company's agenda, which necessitated more pop hits, prevailed, but the record did not do well and the group wasn't musically satisfied. The record that followed it, "Bop Doo Wopp," included some live recordings of standards and doo-wop classics, but didn't connect with its audience either. Given the disappointing sales, the group saw no reason to pursue a commercial direction, but decided to go back to the music that they felt was their strongest suit, and for which they had a demonstrated ability unlike any of their contemporaries. With collaborators Jon Hendricks and Richie Cole, they focused on the use of the vocalese technique - singing lyrics over jazz solos - the album, entitled naturally, "Vocalese." The group already had modeled their distinctive voicings on that of the big band horn section of Count Basie, and this approach culminated in a triumph. They received twelve Grammy nominations for "Vocalese," and won three.
"Brasil" was an exploration of the textures and rhythms of world music, juxtaposed with jazz. The group worked with Brazilian songwriters such as Milton Nascimento, Ivan Lins and Djavan on the record, and it was another unique musical collage, bringing the decade of the 1980's to a close. Manhattan Transfer also had won the Playboy and Downbeat "Best Jazz Vocal Group" category every year from 1980 to 1990.
The group went to Columbia for two releases: "The Offbeat of Avenues," which was a mostly self- written collection, and their Christmas record. Unfortunately, "Avenues" did not get the attention it deserved. The group members also ventured out on a variety of solo projects, including movie soundtracks, and guest starred on the TV series, "Home Improvement."
The group's next project was a children's album, "Tubby The Tuba." The group played all the parts for this charming story of an insecure tuba searching for a melody. Then, after returning to Atlantic, the Manhattan Transfer produced "Tonin'," featuring such luminaries as Laura Nyro, Frankie Valli, James Taylor and Chaka Khan, singing classic pop hits. A most entertaining record, it nonetheless didn't break any new ground musically for the group. Their latest recording, "Swing," was a tribute to the music of the 1930's and 1940's, and no one could do it better than America's preeminent purveyors of vocal harmony. They reinterpreted several tracks, such as "Java Jive," specially for this recording, which debuted at #1 on the Billboard Jazz Chart.
What now, after so many years of success? Only time will tell, of course, but the four singers continue to be partners personally and professionally, and certainly an inspiration to all who hear them. Whatever it is, it'll be done as only the Manhattan Transfer can do it!
Members - Tim Hauser, Janis Segal, Alan Paul, Cheryl Bentyne
The Manhattan Transfer
(1975)
Coming Out
(1976)
Pastiche
(1978)
Extensions
(1979)
Mecca for Moderns
(1981)
Bodies and Souls
(1983)
Bop Doo-Wop
(1985)
Vocalese
(1985)
Brasil
(1987)
The Offbeat of Avenues
(1991)
The Christmas Album
(1992)
Anthology: Down In Birdland
(1992)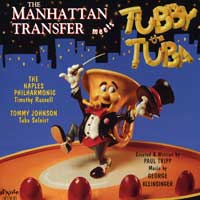 The Manhattan Transfer Meets Tubby the Tuba
(1994)
Tonin'
(1995)
Swing
(1997)
The Spirit of St. Louis
(2000)
Couldn't Be Hotter
(2003)
Vibrate
(2004)
An Acapella Christmas
(2005)
The Symphony Sessions
(2006)
Disclaimer: All About Jazz is not responsible for the accuracy of the discographical data at the website(s) provided. If a link is no longer valid, please contact discography@allaboutjazz.com. Thank you.