Born: April 8, 1927 Primary Instrument: Trumpet
Oliver E. Mitchell was born April 8, 1927. His father, Harold (Pappy) Mitchell played first trumpet in the Jazz Singer, (the first sound movie) all the old Republic westerns, the original King Kong, Gone with the Wind, and all of the MGM musicals until he retired in 1948. Harold started his son Ollie on the trumpet at age five to prove some of his trumpistic theories. Ollie survived, and because of the strict training his dad put him through, he had all the skills needed to be one of the top recording trumpet players in the '60's and '70's.
He turned professional while still in high school, playing in the Teenagers Band on the Hoagy Carmichael radio show and in other bands around Southern California. He joined the Navy at 18, and found his way into the band aboard the aircraft carrier U.S.S Lexington. After his discharge he staked out his ground as first trumpet player with a number of name bands including Stan Kenton, Buddy Rich, Horace Heidt, Charlie Barnet, Alvino Rey, Perez Prado, Harry James, Les Brown, Shorty Rogers, David Rose, Gerald Wilson, Sonny Burke, Gerry Gray and the Glenn Miller Band with Tex Beneke. In 1960 Ollie left the Harry James Band to play lead trumpet with David Rose for the Fred Astaire Special at NBC and a full-time studio schedule became a reality.
Ollie did a lot a private teaching, but, in 1961, he and trombonist Bob Edmondson established Swing Inc., a school devoted to developing young big band musicians. The school came to an end in 1964 when the Tijuana Brass became famous. Ollie and Bob were part of the original group.
Ollie became a top Hollywood studio musician during the '60's and continued on into the '70's and early '80's. He became part of the sound of pop music on thousands of records, TV shows, jingles, cartoons, and movies during those years. The list of artists he has played with and for is several pages long and includes the Concert for Bangladesh held in Madison Square Garden in New York in 1971.
In 1978, because of the fun involvement with younger players during Swing Inc., he put together an experimental stereo big band. He named his 20-piece group the Sunday Band. This exciting band played gigs around the LA area for several years and produced three albums. In 1982, Ollie took his Musicians Union pension and eased out of the mainstream of the Hollywood recording scene. In '85 Ollie and his wife, Nancy, packed up the Sunday Band music and moved to the island of Oahu and the Island Sunday Band was born and soon gigging around Honolulu. Late in 1991, the Mitchells moved back to the mainland to be near Ollie's ailing mother and the music went with them. Soon Endangered Species (a big band) was launched Tuesday nights at That Pizza Place in Carlsbad, California, using the Sunday Band music as well as new charts written by local band members. Ollie also put together a '40's type swing band for the "Big Band and Jazz Hall of Fame" headquarters in Vista, California. Both of these bands are still going strong in the North San Diego Area.
Ollie, Nancy, and the music again moved to Hawaii in the spring of 1995 • the Big Island this time. "In the thirty years we've been married, Ollie has put together eleven bands", adds Nancy. "The Olliephonic Horns are different from my other bands because I play with this one." says Ollie. "The other bands were in bigger population areas, where the musician pool was larger, and I was a "stand out in front and lead" kind of band leader. The Olliephonic Horns, a 10- to 12-piece little big band, just sort of fell together in the summer of 1995, and we have been playing together ever since. In this band, the guys let me be the leader because I'm oldest. And I'm having more fun playing now than I can remember having any where else."
As Sideman
Sonny Burke And His Orchestra
Sony Burke
Hindsight Records
Shelly Manne And His Men" Vol. 2
Shelly Manne
Contemporary Records
Chances Are It Swings
Shorty Rogers
RCA Victor
Swing Fever
Si Zentner
Belcanto Records
Ella Fitzgerald
Ella Fitzgerald with Frank DeVol
Verve
Little Bird Suite
Dick Grove
Pacific Jazz Records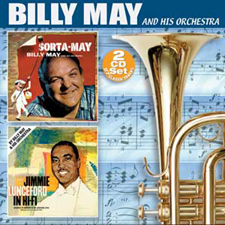 Jimmie Lunceford In Hi-Fi
Billy May
Capitol Records
The New James
Harry James
Capitol Records
Harry's Choice
Harry James
Capitol Records
Charlie Barnet Presents Harry James
Charlie Barney
Crown Records
Prez
Perez Prado
Swinging Brass
The Oscar Peterson Trio
Salute to Stan Kenton
Stan Kenton
Crown Records
Pictures At An Exhibition
Allyn Ferguson
Discovery Records
Westful
Gene Estes
Recorded Live At MGM Studio
Los Angeles Neophonic
Stan Kenton
Hit Maker
Ernie Freeman
Dunhill (ABC) Records
The New One
Buddy Rich
Wings
Paul McCartney
Columbia A&M Records
The Concert For Bangladesh
George Harrison
Apple
Class Of '71
Jack Daughtery
A&M
Paris Blues
Duke Ellington
Paramount
Blast Off
The Sunday Band
In Orbit
The Sunday Band
Disclaimer: All About Jazz is not responsible for the accuracy of the discographical data at the website(s) provided. If a link is no longer valid, please contact discography@allaboutjazz.com. Thank you.
Sorry, no recommendations at this time.