Brett Sroka
Brett Sroka is a composer, musician and sound artist for film, dance, installation and has released five records with his electro-acoustic jazz trio Ergo, and melodronoise duo Cherubim.
His first record, Hearsay (from Fresh Sound - New Talent Records) featured then newcomers Jason Moran, Avishai Cohen and Eric Harland, but being a trombonist in jazz engendered an outsider's perspective on the idiom, inspiring Sroka to begin exploring electronic music as well. His process has subsequently been an effort to reconcile these disparate fields: to develop an organic, improvisational approach to computer instruments, and to seek out dynamic, technological possibilities in music.
In early 2014, at Roulette Intermedium in Brooklyn, Sroka premiered Sine Qua Non, a generative sound installation that grows out of a live improvisation. At the Arteles Center in Finland, he began an electro-acoustic, cross-millennial collaboration with Rauno Nieminen, a renowned luthier and performer of kantele, jouhikko, and other traditional instruments of Northern Europe. With As subtle as tomorrow, Ergo's forthcoming release on Cuneiform Records, a suite of acoustic pieces are transformed into electronic reflections of themselves.
Continuing to explore alternative contexts for audience and composer alike, Sroka will visit Alfred University's Institute for Electronic Arts in 2015 to develop Syllable from Sound, a participatory installation that integrates the voices of it's visitors into a modular composition.



"...into completely new horizons similar to nothing you've heard before... captivating, hypnotic, and attractively exotic music" - All Music Guide
"... has a deft touch when it comes to molding silence and drones into rich celestial balladry. The subtleties of the new multitude, solitude are a nifty confluence of George Lewis's dreamscapes and Miles's Lonely Fire, and while it's a record that invites you to watch the embers glow, it does its fair share of shooting off sparks." - The Village Voice
"each song appears to sound like it has its own story to tell... and the album as a whole has direction, not stuck sounding like an "electrazzic" album because putting one out is the new fangled thing to do." - Jazz Times
"Simply put, ERGO is an electronic atmosphere band, NME is an acoustic blowing band and both revealed a profound though dissimilar rock influence
Cuneiform Records
2013
buy
Cuneiform Records
2010
buy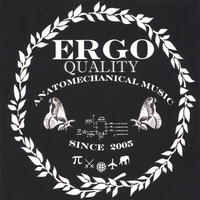 Self Produced
2005
buy
Brett Sroka
Multitude, Solitude

Brett Sroka
Hearsay