Brownman
Trinidadian-born, NYC-schooled & heralded as "Canada's preeminent Jazz trumpeter" by NYC's Village Voice, multi-award winning trumpet player BROWNMAN ALI stands at the forefront of innovation in the Canadian jazz community. A protégé to his teacher, Grammy-winning trumpet legend, Randy Brecker, he tirelessly leads 7 unique ensembles of his own including the internationally acclaimed Miles Davis influenced BROWNMAN ELECTRYC TRIO, and the award-winning CRUZAO latin-jazz quintet. In 2009 he launched his own record label: Browntasauras Records, which saw the Electryc Trio's flagship release "Juggernaut" shoot to number 3 on the iTunes USA jazz charts. The label is now a home to all his ensembles.
In high demand in the studio world with over 300 CD appearances to date, Brownman delivers stylistically authentic horn playing over a wide range of styles from bebop to hiphop having recorded or toured with the likes of Guru's Jazzmatazz (replacing Donald Byrd in that primordial ensemble), Mos Def, KRS-1, Jay-Z, Quincy Jones, Paul Simon, Mingus Dynasty Big Band, Gary Bartz, John Scofield, Wayne Shorter, Chucho Valdes & far too many more to name here.
Brownman is nationally recognized as one of the most unique and provocative improvising trumpet players in the nation and is widely regarded as a vanguard for the evolution of Jazz in Canada.
A highly decorated artist, his accolades include 2 National Jazz Awards (11 nominations over the years), a CBC Galaxie Rising Star award, a SOCAN composers award, Montreal Jazz Fest's "Grand Prix Du Jazz" award, a Toronto Independent Music Award (& 6 nominations), an induction into the WHO'S WHO IN BLACK CANADA, a BRAVO! channel documentary on his life, NOW magazine naming him "Toronto's Best Jazz Musician", CBC Radio Canada named him "one of the most recorded trumpet players in Canadian history", the Trinidad & Tobago Consulate General awarded him with a citation for being a "Distinguished National of Trinidad", and is listed by Air Canada as one of the "Top 10 reasons to visit Toronto"
Please visit www.Brownman.com for more information on this critically acclaimed young artist.
Gear
Bach Stradivarius Model 25, large bore, customized raw brass trumpet, heavy weight caps, custom mic mount
Monette B11 mouthpiece, STC-2
Vincent Bach 1X mouthpiece


Yamaha YFH-731 silver flugelhorn
Vincent Bach 1X mouthpiece
February 21, 2010
April 20, 2008
January 03, 2008
November 02, 2007
October 31, 2005
"... one of the next great voices in the new generation of jazz improvisers"
— Randy Brecker, Grammy award winning trumpeter

"... a great writer, energized trumpeter and thoughtful evolved soloist"
— John Scofield, legendary jazz guitarist

"... uniquely creative and fearless… like a young Miles Davis"
— Guru, legendary hip-hop icon from Gangstarr/Jazzmatazz fame

"... extraordinarily talented… a modernist for sure… a truly gifted improviser with an original creative voice"
— Gary Bartz, saxophonist to Miles Davis in the 70's

"..
Browntasauras Records
2013
buy
Browntasauras Records
2009
buy
Browntasauras Records
2007
buy
Browntasauras Records
2004
buy
Browntasauras Records
2003
buy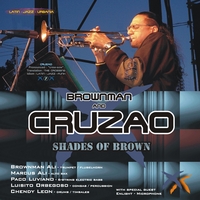 Browntasauras Records
2002
buy