Carrie Jackson
Ms. Carrie Jackson & Her Jazzin' All Star Ensemble swings and performs the music of "Duke" Ellington, Count Basie, Lionel Hampton, Louis "Satchmo" Armstrong, Miles, Coltrane, Diz and the Great American Song Book.
Carrie attributes her vocal style of singing to her mentors, the Great Ladies of Jazz, Sarah Vaughan, Ella Fitzgerald, Billie Holiday, and Dinah Washington, and Carmen Mc Rae, but, Carrie truly has a Jazzin' style that is uniquely her own. She has a sound that is honey laden, soulful , sultry, and sings a pop, and blues tune that has a poignant mellow sound; her timing is right on and the subtle twists and turns in her phrasing make her that comparatively rarity, a real jazz singer with a great Sound!!. Carrie is dedicated to preserving this unique jazz music culture and encourages an awareness of it's history through music appreciation and understanding.
Ms. Jackson is a native Newarker' who honed her early talents in Newark, the Jazz Mecca of New Jersey. Carrie studied piano and voice with Howard "Duke" Anderson, teacher, composer, arranger and also performed with Duke's Big Band for many years. Her voice training and natural talents are evident providing for classical performances in Jazz & Pop favorites. Ms. Jackson rekindles thoughts of Newark's great jazz history when it had more than 200 jazz spots and great artist's were in great demand to include Wayne Shorter, Woody Shaw, James Moody Hank Mobley, Ike Quebec and "Sassy" Ms. Sarah Vaughan.
Read more
Star Ledger, Jazz Review
Zan Stewart, Jazz Critic
"Carrie is an advocate of the Great American Popular Songbook; a timeless wealth of material; and presents it with spirit and feeling, her renditions have a personal, not derivative, ring.
Ms. Jackson delivers these in just the right volume and vigor to reach all listeners; she digs into her comely lower ranges, mixed with her own jazz smarts, and sings in a no- nonsense manner, and makes the numbers breathe. Carrie Jackson is a rich-voiced blues, ballads and jazz standards singer who knows how to put a song across"
WBGO FM 88.3 Jazz Radio NY
Ben Duncan, On-Air Host
"Ms Jackson is Pure Jazz with strong tunes, plenty of great phrasing and challenging singing, she is truly abd exciting, and consummate jazz vocalist. Carrie's wonderful low range, total command and interpretation of lyrics and an amazingly quick ability to run beautiful variations on a theme are gifts that have been possessed by only one or two artist's that I can think of- certainly Ms
C-Jay Recording & Productions, Inc.
2014
buy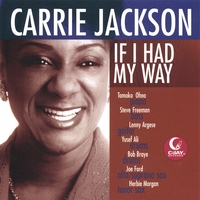 Unknown label
2005
buy