Cynthia Basinet
Nobel Peace Prize nominated and critically acclaimed self-released singer, actress, activist. Best known for her version of "Santa Baby" (oft-miscredited to Marilyn Monroe and influencing nearly ever artist who has re-recorded the song since 2000. Featured in soundtracks from "Party Monster" to CBS's "NCIS LA") She is compared to artists ranging from Tony Bennett, Nat King Cole, Dinah Washington, Ella Fitzgerald, Doris Day to Jamie Cullum, Harry Connick Jr, Madeline Peyroux, Al Jarreau, Amy Winehouse, Oleta Adams and more.
Cynthia (who is often called "C" by her friends) has had a colorful and successful life in several fields, and she is just getting started. She is an exquisite and glamorous singer with a highly expressive voice and a real feel for American standards. Her most recent full length CD, "The Standard" features a haunting arrangement by Lee Musiker of "Cry Me A River". She has combined forces with Lee on several of her releases including, "Its Only A Paper Moon" and "The Christmas Song".
"I was raised on jazz," says Ms. Basinet. "My Dad used to play records by Ella, John Coltrane and many others. In fact, my mother has said that I heard jazz while still in my womb." Born in the San Fernando Valley, she was raised in the Silicon Valley near San Francisco. Classically trained on flute and saxophone (playing first chair in her school bands),she also sang opera while loving the American popular songbook.
Read more
October 07, 2020
August 11, 2020
March 15, 2018
January 03, 2018
November 21, 2017
April 24, 2015
December 15, 2014
October 16, 2014
August 25, 2014
June 09, 2014
"What a knock out!" -Dick Hughes, Jazz Action Productions
"Excellent artist and songs." -Wyn Machon, Oamaru Heritage Radio
"The sound of your voice is a pearl to my ear!." -Paul van Kuik, Radio 0162
"American Actress Cynthia Basinet truly uncovers her talents with this EP 4 track offering on UNCOVERED. She's got the looks, style, and ability to deliver a tune. A class act!" -Helen Simons, The JazzXpress Caravan Jazz Radio 94.1FM Australia
"...This EP is definitely a keeper, and with another EP and a full length album out there, there's plenty more Cynthia Basinet to get your teeth into
Welcome To Dreamsville Records
2020
buy
Welcome To Dreamsville Records
2012
buy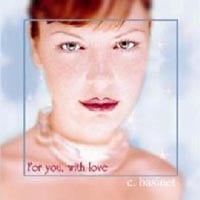 Welcome To Dreamsville Records
0
buy