Devin Phillips
Devin Phillips - soprano, tenor saxophone
There are many musician stories that have surfaced in the wake of Katrina, but the one concerning saxophonist Devin Phillips seems to be wrapped in the proverbial silver lining. He is a positive example of the benefits and consequences of staying focused and keeping unwavering faith in your own talent and ability.
Born and reared in New Orleans, Devin Phillips' intense affair with the saxophone began at the age of eight. At 14, he was accepted into the prestigious New Orleans Center for Creative Arts, whose alumni include Wynton and Branford Marsalis, Harry Connick, Jr. and Nicholas Payton. There, trained in music theory and multi-styles composition, he graduated in 2000 with top honors. He has also tutored under clarinetist and educator Alvin Batiste. Like many budding young horn players form the Big Easy, he put his time in playing with the local brass bands in a traditional process of initiation in the musical process.
Devin Phillips has paid his dues performing, touring and recording with top jazz artists such as Wynton Marsalis, Eddie Palmieri, The Headhunters, the New Orleans Jazz Orchestra, musician Lenny Kravitz, and Los Hombres Caliente, with whom he recorded two award-winning albums. His reputation as a sax man with intricate and rhythmically innovative sounds made him a popular feature at jazz festivals: France's Jazz de Vien Festival; Tokyo's JVC Jazz Festival; Itanbul's The Ruins; Spain's Barcelona Jazz Festival; the Netherlands' North Sea Jazz and the New Orleans Jazz Festival.
Read more
"Phillips makes a bold statement as a saxophonist to be reckoned with...blending contemporary jazz traditions with those straight from the Crescent City." --George Fendel, Jazzscene Magazine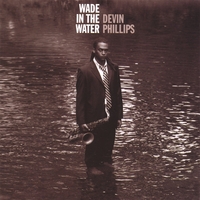 Devin Phillips Music
2006
buy