Eric Daniel
Born in Washington, D.C., USA on May 24th, 1952
Began musical studies age 9 (clarinet).
Began performing publicly at age 12.Joined American Federation of Musicians at age 16 in Boston, MA, USA.
Advanced musical studies at New England Conservatory (clarinet) and Berklee College of Music (saxophone w/Joe Viola)in Boston.
Military service in the US Army from 1972 to 1975 as a sax instructor at The Armed Forces School of Music in Norfolk, Virginia, USA).
Live performances in USA with:Gladys Knight, Tom Jones, Temptations, Jerry lewis, Tony Bennett, Ella Fitzgerald, Stevie Wonder and many others.
Broadway shows such as "Annie", "Dancin'" (Bob Fosse), "Peter Pan", "They're Playing Our Song", "Eubie", "Bubblin' Brown Sugar" and many others.
Live performances and/or recordings in Italy with:
Natalie Cole, Carl Anderson, Zucchero ("Woodstock '94", "Live at the Cremlin", "Blues", "Rispetto"), Alex Britti, Tony Cerqua,Andrea Bocelli, Jenny B, Geraldina Trovato,Mia Martini, Crystal White, Joe Cocker, Massimo Ranieri, Tom Jones,Valeria Rossi,Luca Cucchetti, Amii Stewart, Michele Zarrillo, Corrado "Rod" Rusticci, Thelma Houston, George Benson, Astrud Gilberto, Paolo Pallante Paul Young, Agostino Penna, Mercuzio, Randy Crawford,"King"Solomon Burke, Mike Applebaum, Raffaela Carrà, Paul Horn, Giorgia, Jerry Lewis, Sammy Davis Jr, Mercuzio, Donatella Rettore, Roberto Ciotti, Tosca, Marco Armani, Chaka Khan, Wendy Lewis, Lena Horne, Chiara Vecchio Bossa Trio, Gladys Knight and the Pips , Gil Evans, Frank Vinci, Mimmo Locasciulli, Eduardo DeCrescenzo, Otto OhmRosario Jermano, Gino Paoli, "Toots" Thielemans, Lew Soloff, Rodney ("no respect!") Dangerfield, and many others.
Read more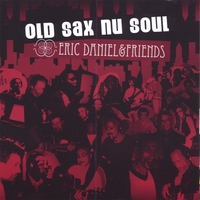 Eric Daniel
Eric Daniel & Friends, Old Sax...