Howard Britz
New York City bassist, pianist and composer Howard Britz was born in London, England in 1961. A band leader in his own right, he has performed and recorded with a diverse collection of influential musicians including; Jon Hendricks and Annie Ross, Danilo Perez, Paquito de Rivera, Sam Rivers, Julius Hemphill, Kenny Werner, Uri Caine, Jeff "Tain" Watts, Kenny Wheeler, New York's Central Baptist Gospel Choir and most recently Edsel Gomez to name a few. The breadths of his musical influences are apparent in his playing and compositions and are reflected by the artists he has worked alongside and his recordings.
Growing up in England, Howard immersed himself in the London Jazz scene; he formed creative associations with British pianists, Jonathan Gee and Jason Rebello, saxophonist/composer Tim Garland, amongst others. Although he was in demand as a band leader and sideman Britz also played in the onstage band for the hugely successful show 'Blues in the Night' which ran for over a year in London's West End.
Arriving in America in 1991 on a scholarship from Berklee College of Music in Boston, Howard quickly established himself as a working musician. One of his first gigs was with Billy Pierce, the ex-Art Blakey tenor man. Transferring to The New England Conservatory of Music, Britz earned a Graduate Diploma whilst keeping up a busy performing schedule.
In 1995 he overshot New York and moved to Philadelphia, PA for, as he puts it, "romantic reasons," and found a lively and vibrant jazz scene of which he quickly became a part, "I learned so much playing with the wonderful Philly musicians of the older and younger generations such as Mickey Rocker, Sid Simmons, Uri Caine and John Swana, and the many soulful Jazz/Blues vocalists, it was a great scene".
Read more
Point of Departure, WMPG-FM
2008
buy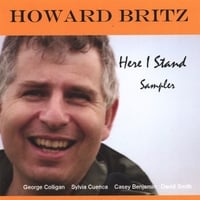 Self Produced
2007
buy
TeeZee Records
2005
buy