Joe Purrenhage
Joe Purrenhage grew up outside the Detroit area where he picked up a great interest in music including classic rock and jazz/blues. A short stint in the Air Force allowed him to come in contact with many musicians with different infuences and styles. Formal training was minimal with a couple of years of piano lessons at a young age and percussion in the high school band. However, he started to teach himself everything from bass and guitar to keyboards and synthesizer programming with a verocious appetite for knowledge.
After the Air Force, Joe focused on starting an all original band with some friends and had some limited success with a pop/rock band called "Earthbound". In the early '90s, Joe met Marcus McGlown and a musical friendship was started that continues today.
Marcus and Joe were looking to start something that had a little more of the '70s fusion flavor to it and called in an old friend Craig Wisper to start what was the seeds to the modern fusion group Fuze. Many a Saturday Night Jam started and all boundries dropped for the improvisational approach to music which allowed a unique blend of rock and jazz to emerge as the musicians became intimately familiar with each other.
By 2000, the jams had become somewhat of a regular thing with recordings and webcasts going out over the internet. After a few different bass players tried out with the band, Doug Nolls was brought in with his custom basses and taurus pedals to increase the rock foundation to the band. Doug was somewhat new to the idea of improvisation and jazz but was eager to enhance his skills.
Read more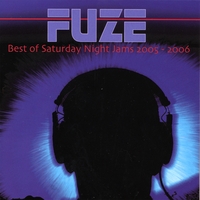 Joe Purrenhage
Best of Saturday Night Jams...

Joe Purrenhage
DiG