John Cooper
John Cooper is a jazz artist and composer who makes his home in Macomb, IL and is Director of Jazz Studies at Western Illinois University. Cooper began his musical career in 1983 in Detroit, Michigan where he completed a Bachelor of Fine Arts degree at Wayne State University in Jazz Studies. While in Detroit, he performed with the Johnny Trudell Orchestra as well as jazz artists Jon Faddis, Carl Fontana, Jim McNeely, Clark Terry, John Fedchock, David Liebman, Gary Foster, Alan Vizutti, James Moody, J. C. Heard, Duffy Jackson, Chico O'Ferrill, Jiggs Wigham Terry Gibbs, Slide Hampton, Ken Watters, and other national touring acts including Aretha Franklin, The Four Freshmen, The Four Lads, Mitzi Gaynor, Henny Youngman, Lola Falana, Roger Williams, Rosemary Clooney, Jerry Lewis, The Temptations, Rich Little, Joan Rivers, The Four Tops, The Spinners, Tony Orlando and Dawn, The Nelson Riddle Orchestra, Martha Reeves and the Vandellas, and Lou Rawls.
Cooper continued his education, obtaining a Master's degree in Music Composition from Bowling Green State University in Bowling Green, Ohio, where he worked as a teaching assistant in Jazz Studies under the supervision of Jazz Studies Director, Jeff Halsey. From Ohio, Cooper moved to New York City to continue studies with jazz artist and composer Jim McNeely at New York University, where he graduated with a Doctor of Philosophy degree in Music Composition in 1996. While in New York, Cooper was a member of the BMI Jazz Composer's Workshop and graduated to the Master Composer's group.
Read more
Mark Stryker, music critic from the Detroit Free Press, says "Cooper, a former Wayne State University student who teaches at Western Illinois University, has a firm command of the orchestra, solid ideas and a fine band stocked with Chicagoans and Detroiters."
Kevan Breitinger from Christian Music Central says "...I love jazz and couldn't get enough of this intelligent composition." and ..."An emotive piano opens standout track "Communion (And Now You're Gone)" before moving into fuller instrumentation. Thick horns lay down an evocative foundation which builds slowly into a warm crescendo of expressive awe."
Marie Asner from the Phantom Tollbooth says ..."This music is for everyone and all denominations, plus anyone who appreciates jazz
Primary Instrument
Composer/conductor
Willing to teach
Advanced only
Credentials/Background
BM Jazz Studies and Teacher Certification from Wayne State University, Detroit, MI MM Composition Bowling Green State University Ph. D. Composition New York University 7 years teaching experience in jazz studies Northern Michigan University 6 years teaching experience in jazz studies Western Illinois University Contact for rates and availability: [email protected]
Clinic/Workshop Information
Clinics in: Composition Trumpet Jazz Improvisation Jazz Pedagogy Jazz History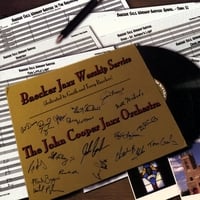 Baecker Music Productions
2008
buy
Baecker Music Productions
0
buy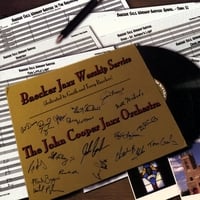 John Cooper
The Baecker Jazz Worship Service