Martha J.
Martha J. - Biography Graduated at Accademia di Belle Arti N.A.B.A. of Milano, she started her musical career in 1986, in Milan and Lombardy clubs. She plays guitar and sings songs of American and English jazz and folk artists (Joni Mitchell, James Taylor, the Beatles, ecc.) e Irish folk. She studies classical and modern singing, takes part in Rachel Gould's jazz clinics, studies at Studio Laboratorio dell'Attore with Raul Manso and modern dance with Miguel Angel Cragnolini. She spends a brief period in the pop music world (1989 / 1995) that leads her to take part in Sanremo Festival and to the release of two CDs for PDU/EMI and to many concerts in Italy and abroad, especially in Canada. From 1999 on, she concentrates her activity non jazz music, playing with many musicians such as Attilio Zanchi, Giovanni Monteforte, Max Gini, Marchino Bianchi, Niccolò Cattaneo, Toni Arco, Guido Bombardieri, Marcello Noia, Vittorio Castelli, Carol Sudhalter, Luca Garlaschelli and many others, in clubs, festivals and events in Italy and abroad. In 2005, Martha sings a couple of songs in 'Shades of Carol', the CD of American sax and flute player Carol Sudhalter. In 2007 she starts working with pianist Francesco Chebat: they released five albums, with jazz standards and original songs, of which she wrote the lyrics. Main performances: - "Dal Blues all'Hard Bop", Bergamo, 2014 - "Oltrelenote", Grassobbio (Bg), 2014 - "Sconfinati Suoni", Casa del Popolo, Lodi, 2014 - Metropolitan Room, New York USA – 2012 - Somethin' Jazz – New York, USA – 2012 - Teatro Sociale di Canzo –2012 - Druso Circus, Bergamo, 2012, 2013 - Oggi Non Ho Fretta, Milano, 2012 - Il Ritmo delle Città – XIV Magenta Jazz Festival – 2011 - Radio Popolare Roma – Live broadcast at "Caffè scorretto" – November 2011 - Paprika Jazz Club – Bergamo 2011 - Ivrea Jazz Club – 2011 - Passeggiate Donizettiane, Teatro Donizetti - Bergamo, 2011 - Partnershaftfest Konstanz, 2011 - Spazio RSI, Locarno Int
Read more
"Martha J. is not only a marvelous singer with a lovely instrument and delivery, but also a substantial song lyricist, writing with grace and subtle eloquence. She found a perfect collaborator in pianist and composer Francesco Chebat... " - Mark Stevens, Piano and All That Jazz Radio
"... an extraordinary sensibility, a perfect control of the voice that gives great emotions (...) one of the most gifted and refined vocalists of our jazz/folk/fusion scene." Gianni Zuretti, L'isola che non c'era
"...an explosion of freshness, of vocal skill and great professionalism, together with a talent that no school can teach..." G Candiano - TG com
"..
Primary Instrument
Vocalist
Willing to teach
Beginner to advanced
Credentials/Background
I have been teaching since 2004 to all levels of students. My student's age goes from 10 to 65. I teach at Accademia Gerundia, Lodi and I give private lessons in Milan a Bergamo. For info: info@marthaj.it
Clessidra Records
2014
buy
Clessidra Records
2012
buy
Clessidra Records
2010
buy
Music Center
2008
buy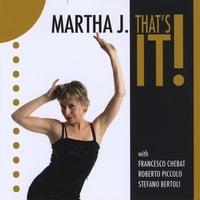 Music Center
0
buy