Martin Fabricius
Martin Fabricius studied the vibraphone with Ed Saindon and Gary Burton at Berklee College of Music where he graduated from in 1996 with a major in film scoring. After a decade of writing music for film, Martin released his first CD, When Sharks Bite, in 2008, which by JazzNyt was hailed as one of the 10 best jazz albums to be released in Denmark that year. In 2010 Martin released the album The Speed of Why with touch-guitarist Chris Lavender. He has just released his third album, Out of the White, of which mMusic wrote: "The final result is simply overall ingenious: a subtle and elegant marvel" and All About Jazz gave a 5 star review. Martin Fabricius is an active composer, music educator and performer living in Copenhagen, Denmark
Gear
Deagan Vibraphone with K&K pickups.
"The final result is simply overall ingenious: a subtle and elegant marvel" – mMusic
"Jazz that embraces you and stays with you" - JazzNyt
"Chamber Jazz of the finest carat" - Ib Olsen, Arbejderen (Nov 26, 2009)
"Once in a while medicine can be so effective that it improves a persons quality of live. Martin Fabricius' music is effective - the only side effect being lots of relaxation... a dense moody universe with a great sense of melody and feel." - Niels Overgaard, JazzNyt (Oct 25, 2008)
"The music floats with nice melodic passages that are so enjoyable you want to listen to it over and over again....
Primary Instrument
Vibraphone
Willing to teach
Advanced only
Credentials/Background
I've taught for more than a decade... and I love it!
Clinic/Workshop Information
Clinics about playing the vibraphone with expression. Main focus is on dynamics and advanced dampening technics.
Gateway Music
2015
buy
Gateway Music
2014
buy
Gateway Music
2010
buy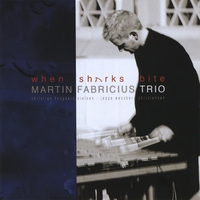 Martin Fabricius
2008
buy