Michael Danso
Scottish-born and Toronto-based, I come from a Show Business family. My mother, PINKIE MACKENZIE, sang with all the top Big Bands when they toured Great Britain, and I first sang onstage with her at the age of 5, with The BERTIE KING BAND. By age 9, I was touring with my own group of girls, under the name WEE MAXIE AND HIS LASSIES.
At 10, I was spotted by ELLA FITZGERALD, who was performing across the street and wanted to know which local group was drawing large line-ups. Fitzgerald was impressed and offered to take me to the U.S. his grandmother vetoed the idea.
I finally reached North America. I was 19 and performing in the Venus Company production of HAIR. I became a Broadway Gypsy and appeared in "PIPPIN" (MAGICIAN/MAGIC-MAN) and JESUS CHRIST SUPERSTAR (JUDAS) ,and ANNA LUCASTA (RUDOLPH) in Los Angeles, California. I fell in love with Los Angeles spending 3 years making a living singing jingles with my own highly successful company, "LIPS". Then I spent 3 years touring the Far East and set up an Agency booking U.S artists into Japan, Korea, Thailand & Guam.
Upon settling in Canada, I immediately became a favorite of audiences and media alike, a status I continue to enjoy. I have performed regularly in all the top Festivals and Nightclubs, acted and performed in such musicals as THE THREEPENNY OPERA (MACHEATH),THE BOYFRIEND (BOBBY VAN HEUSEN), and made my Dramatic debut starring in THE AFRICAN ROSCIUS,(ALDREDGE) a Play based on the life of 19th Century Black Shakespearean actor IRA ALDREDGE to Critical acclaim. I hosted my own Television Show (JUST JAZZ-CHCH T.V.) My most recent incarnation on the Broadway and World Stage has been with RIVERDANCE- THE MUSICAL ( FREEDOM SINGER AND TRADING TAPS SOLOIST )
Read more
March 24, 2004
Michael Danso
Duet Of Solos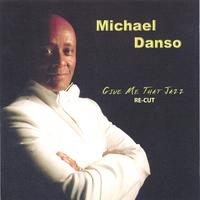 Michael Danso
Give Me That Jazz