Nicole Rampersaud
Nicole Rampersaud is a Canadian Trumpet Player, Composer, and Recording Artist, focused on creating music that cuts through genre, culture, and hyperbole to create resonate experiences that connect people from all walks of life. Through Improvisation and Experimentalism, Nicole creates a unique yet versatile sonic language that easily adapts to any musical situation, attesting to her relentless ambition to expand her mastery of a broad range of musical practices and traditions. She is an established and resourceful side person, having worked with a diverse and ever-expanding group of musicians including: Anthony Braxton, Joe Morris, Rakalam Bob Moses, and Sandro Perri, to name a few.
Nicole has been performing and composing solo trumpet music since 2008, and continues to use this as a vehicle to deconstruct and abstract the trumpet's traditional sonic possibilities. In solo performances, Nicole improvises composites of her pieces in the moment, resulting in compelling structures that engage, challenge, and, ultimately, involve audiences in the creation of a connected experience.
Nicole is a founding member of the Canadian improvising trio, c_RL, featuring Percussionist and Composer, Germaine Liu and Composer and Improviser, Allison Cameron. She also works extensively with pianist Marilyn Lerner as the duo, Brass Knuckle Sandwich. As a Composer, Nicole's works have been performed at the Vale of Glamorgan Festival in Wales, the Festival of New Trumpet Music in New York, and the Suddenly Listen series in Halifax. She has received multiple grants from the Canada Council for the Arts and the Ontario Arts Council.
Read more
"The show began with a solo set from local trumpeter Nicole Rampersaud, who blew fitful runs of cascading melody augmented by vigorous muting action, alternately burnishing and dulling the trumpet's sonority to wring as much tonal range as possible from the instrument." — Mark Streeter, NOW Magazine
"Challenging, yet eminently accessible and beautiful to hear was the captivating duo set of Toronto-based improvising pianist Marilyn Lerner and trumpeter Nicole Rampersaud. They're called Brass Knuckle Sandwich, but their collaboration is all about individual creative expression, complicity, and a commitment to refined aesthetic values
Primary Instrument
Trumpet
Location
Halifax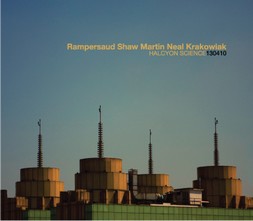 Barnyard Records
2011
buy