Northwoods Improvisers
Northwoods Improvisers first came together in 1976. Early versions of the band played totally collective electro-acoustic improvised music. Around 1980 the band switched to an all acoustic instrumentation which has remained to this day. Mike Gilmore and Mike Johnston were founding members of the ensemble. Nick Ashton joined in 1986.
In the 1980's the band published several homemade cassette tapes of various live performances. in 1987 the band played several gigs with Canadian saxophonist (and Coda Magazine editor) Bill Smith.
In 1994 Northwoods released their 1st recording Fog and Fire on Trevor Watts Arc label. In 1996 Northwoods began recording on the Michigan based Entropy Stereo label owned by violinist Mike Khoury.
In 2000 the group began colaborating with Detroit saxophonist Faruq Z. Bey. Mike Carey a long time Bey collaborator joined the ensemble in 2002.
"The music exists in a space cleared long ago by Coltrane's tireless modal searching and Sun Ra's insinuating pulse, yet it still appears fresh and purposeful - a music pleasingly at ease with it's own history".
Julian Cowley ; The Wire Feb. 2007.
"Pristine earth soul jazz".
Thurston Hunger; kfjc on-line reviews 2007
"Michigan's Northwoods Improvisers have, for over a decade, provided the underground with some of the most satisfying, confounding, and totally inventive music on the scene, though they are seldom acknowledged for it...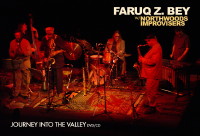 Entropy Stereo
2008
buy