Ofir Shwartz
Born in Israel, Ofir has been playing the piano since the age of 2. Being with a classical background Ofir fell in love with jazz at puberty, a love that changed his views towards music and helped him find his calling as an improvising artist and composer. At the age of 20 Ofir started his professional career and has performed with some of Israel's finest Jazz musicians.
Through the years Ofir has participated in a variety of musical projects, giving him the opportunity to experiment in different styles and approaches. He has performed at many prestigious Jazz Festivals and venues around the world both as leader and sideman, continuously composing and creating fascinating new music. Shwartz holds great importance in conserving creativity and unique sound while exploring the endless bounds of harmony and melody.
Ofir Shwartz is a several times winner of the Ministry of Culture prize for creativity in music, the Haifa Arts Foundation prize for Jazz Musician and is regularly supported by the Ministry of Foreign Affairs as one of the great Israeli touring musicians.
In 2010 Ofir Shwartz has recorded Earlier in time, his debut album as a band leader. The album received great reviews from both the crowd and the media. In 2013 Ofir Shwartz has recorded Shades of Fish, his second album as a band leader. The album continually receives amazing reviews worldwide.
Discography:
2013 - Shades of Fish / Ofir Shwartz Trio / Hevhetia Records
2010 - Earlier in Time / Ofir Shwartz Trio / sHmoo Records
2006 - Live at Klaipeda International Jazz Festival (DVD) / Residents of the Future
2004 - Futuristic worlds under construction / Residents of the Future




"One of the most exciting genre albums of the year"
"Stunning solos, flowing arrangements - fabulous disc"
"Shades Of Fish is an album that brims with details; it is played with incredible nuances during the opening piece, the amazing bass syncopations in When It Ends, or the painted sides of the rare Scandinavian-sounding Last Journey"
MusikReview.DE Germany, 2013
"Great leap forward of the Israeli talent that goes on"
"We are happy to present Ofir Shwartz, the new piano prodigy to rewrite the history of jazz in a flexible and ever-changing style!"
"A talented musician that can play aggressive in a way that I cannot imagine from his calm and intellectual looks
Primary Instrument
Piano
Clinic/Workshop Information
Hodling clinics in festivals, universities and schools.
Clinic title: Listening While Playing.
Abstract: A clinic which discusses the importance of listening to the other musicians while playing your own instrument, in order to create complete musical picture. Having the understanding that the complete picture is more important than the individual instrument will allow musicians to comp as well as solo better. This clinic involved played examples and conversation with the crowd, as well as possible participation of musicians from the crowd.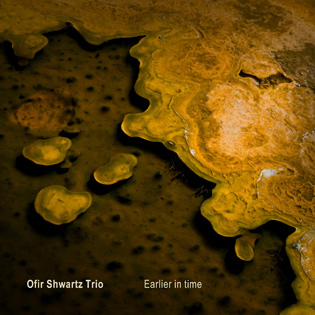 Ofir Shwartz
Earlier in Time