Sarah Jerrom
Sarah Jerrom is a Canadian vocalist, composer and arranger specializing in jazz and creative music, taking her inspiration from lyric-driven melodies, genre-defying instrumentation and experimental soundscapes. Sarah's new album, "Dream Logic, "a collection of original songs recorded by her contemporary jazz quartet of the same name, was released Mar. 26th 2021 on Three Pines Records. "The Yeats Project" (2017), her first all-original album, features W.B. Yeats's poetry set to music and orchestrated for a nine-piece chamber jazz ensemble, achieved critical praise and international airplay. Sarah's debut album, "Illuminations" (2007), encompassing original compositions, jazz-inspired arrangements of contemporary songs and traditional jazz standards, has also received widespread media attention and international radio airplay.
"… Jerrom sounds best when she is free of traditional confines." – Robert Rusch, Cadence Magazine
Headliner performances across Ontario include Brock University's Centre for the Arts, The Music Gallery, The Richard Bradshaw Amphitheatre in The Four Seasons Centre for the Performing Arts, and many of Toronto's top jazz clubs and listening rooms. Jazz festival performances include the 2018 and 2015 Niagara Jazz Festival, the 2012 and 2009 Lakefield Jazz Festival and the 2007 Toronto Downtown Jazz Festival. Sarah has performed with renowned jazz artists such as Mike Murley, Kevin Turcotte, Ingrid Jensen, Carnatic-fusion guitarist Prasanna as well as many other notable musicians; she has sung with Alex Samaras' vocal group, GREX.
Read more
The Yeats Project: Cadence Magazine – January 2018
"Singer SARAH JERROM has composed and arranged 10 of the 11 tracks [73:08] on THE YEATS PROJECT (2017, Independent). Backed by a small group, conducted by Tom Richards, Jerrom writes the compositions and sings the poetry of William Butler Yeats. The results are a third stream art music. The music has a touch of free improv mixed with chamber music and the instrumental-like vocals are divided in and around the compositions. It's an ambitious undertaking and one that is successful. A lyric printout would have complimented this production greatly
Primary Instrument
Voice / vocals
Location
Toronto
Willing to teach
Advanced only
Credentials/Background
Sarah has almost 15 years of experience working as a music educator in Toronto, Oakville and Niagara. Her passion lies in helping each student discover and develop their own unique, individual sound using a joyful and compassionate learning process. She is currently accepting new private voice students (all levels and ages) and piano students (beginner – intermediate level) in her Niagara studio, located near downtown St. Catharines. "I am an elementary school teacher and I've been taking voice and piano lessons with Sarah for over three years
Three Pines Records
2021
buy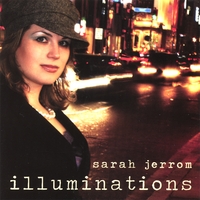 From: Dream Logic
By Sarah Jerrom
From: The Yeats Project
By Sarah Jerrom